Anni oli täällä yötä, tuntui hyvältä jutella aamuyöllä jonkun kanssa joka ymmärtää mistä puhun. Ja mistä en. Sanaton yhteys, se joka ei koskaan katoa. Saatettiin maata hiljaa minuuttikausia tuntematta oloa vaivaantuneeksi, puhua mistä tahansa ja nauraa huonoille vitseille. Kai se on se kun on tuntenut toisen kymmenen vuotta.
Ja huomasin jälleen, että aina yhtä hauskaa etsiä naamiaspukuja ja pukeutua niihin.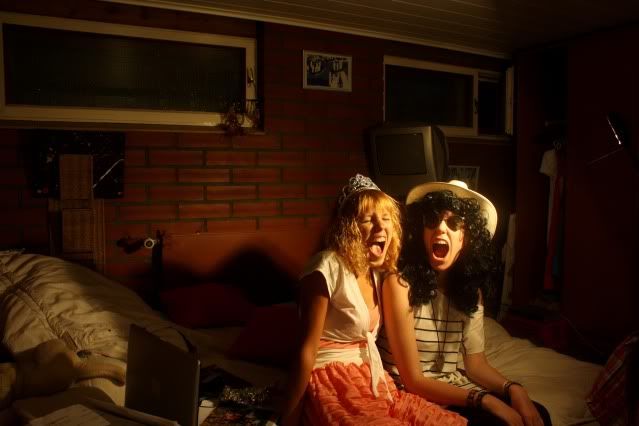 Huomenna lähden leirille kavereiden kanssa, pitäisi olla jo pakkaamassa tavaroita (oikeasti, miksi aina lykkään asioita myöhemmäksi?) Jotain kertoo se, että suurin juttu mitä tänään tapahtui, oli kun kun yritin poimia kukkia ja satuin poimimaan nokkosia. Waked.
Anni was here the night, feels good to talk in the small hours with someone who understand everything what im talking about. And what im not. Speechless contact if you know what i mean. And its always fun to wear costumes. Tomorrow im going camping with my friends, so i should be packing now (really, why i always think that i can do it later?) The biggest thing today was when i tried to pick some flowers which turn out to be nettles.